I cannot believe it's been almost 3 weeks since I last posted. I have been blogging, just all about my photo sessions of late on my other site. To say it's been a little hectic is quite the understatement. I had to post some pictures from our trip to remind myself that indeed we already went on vacation for the summer. I'm DYING to go somewhere else & actually relax, but my checkbook doesn't really agree :-)! Here's a little rundown of all the things we did and saw when we were in Orlando.
The day we landed, we checked in & then headed straight to Sea World...I say straight, but the truth is we had a couple of GPS's that didn't feel the same way & it took us almost 45 minutes to get there, when it should've taken about 5!
Grant was apparently feeling SUPER brave that day, and asked if he could ride this. This is the only part of the ride that you could really see, but from what I heard there were some dark caves & a couple of either quick moves on it. He met the height requirement, so Pookie and he went on the ride. Unfortunately, it ruined him for our ENTIRE trip! It scared him to death! He's actually in the very back of the ride in the picture below, and when they got to the bottom, he was crying. He didn't want to go on ANY rides the rest of the trip...not a good way to start the trip. It was a battle the rest of the week to get him on much of anything - It's a Small World, Peter Pan, the Little Mermaid Show all resulted in all out screaming in line! Not so fun!
One of the very few pictures I'm actually in from the trip waiting for one of the shows at Sea World to start.
I had to post this photo just because I think it looked so cool!
The 2nd day, we headed out to Magic Kingdom. It was by far the craziest place we went the whole time we were there. We got there pretty early and stayed until 11 pm. We were exhausted when we left, but it was worth it.
Claire loved Minnie's house & still talks about going back there.
Mom will probably kill me for posting this picture, but I think it's hilarious. We had 1 rain shower the whole week, and we were actually in Judge Mickey's tent when it happened. When we came out, it was just sprinkling and the Mad Hatter's Tea Party was close by & covered, we headed there. We all SQUEEZED into 1 teacup together. I DO NOT like these types of rides, and neither does my mom, can you tell?!
We then went to wait in line for princesses. Grant & Pook ventured off somewhere else, and we stood in line for an eternity. It was worth it though. Claire was in total awe of these princesses. Sleeping Beauty was a total sweetheart and held her for a really long time. She was talking to her & stroking her hair. Claire is VERY shy around people she doesn't know, and she just kind of stared at all 3 of them, but it was so sweet.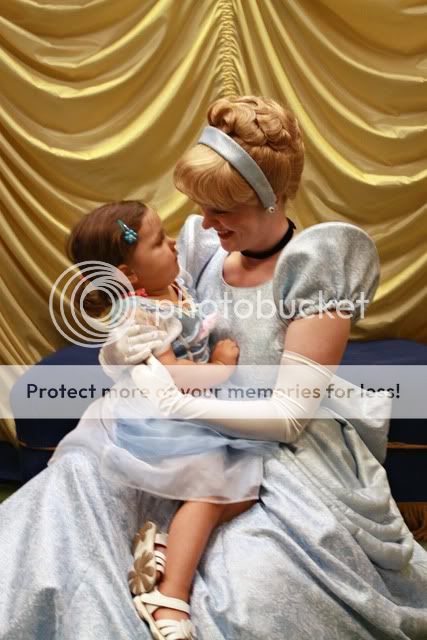 Grant got to meet some of his favority characters too. Claire wouldn't step foot near them!
We hung around for the parade, and it was so worth it. It was just beautiful!
Claire sat front & center & took it all in. Grant was kind of behind us so he could run & hide at any given minute! The funny thing is that when the Peter Pan float went by, Capt. Hook totally blasted a canon right at Grant - scared him to death, but we thought it was hilarious :-)!
The castle is SOOO pretty at night, but the crowds around it were absolutely ridiculous! We had no intention of staying for the fireworks, but it was impossible to get out of there because of the crowd.
Love Love Love Tinkerbell before the fireworks!
Random balloon pic that might be my favorite from the whole trip...Funny thing is this guy was SOOOO in the way of everyone with all of this stinkin' balloons!
The next day, we went to Animal Kingdom for a few hours while Pook was in classes. I do have LOTS of pictures of animals, but I figure you've already seen that stuff! It was a drama filled day when my credit card was declined trying to buy tickets. Apparently, someone stole our number & they froze our account - great thing to happen on vacation!
That night, we headed to Epcot for some fun & fireworks. Love this pic of my boys!
The were all about this Nemo exhibit. Grant was, of course, petrified of the ride, but just fine once he realized it wasn't scary.
Weds morning, we headed back to Magic Kingdom for breakfast with Pooh & his pals. I would not recommend character breakfasts unless they're at your hotel. It is SOOOOO HARD to get there in time. We were so tired every morning & that time difference is a killer that early in the morning. We had quite the morning when Grant had a HUGE belly issue right when we walked through the gates. I am so thankful for extra clothes & ziploc bags - a theme park necessity!
The breakfast was really good, and the kids really enjoyed it. Claire still wouldn't touch the characters, but she did at least stand next to them.
Later that same day, we ran into some more Toy Story friends.
Back at Downtown Disney that evening, they were obsessed with the little Mickey & Minnie!
Thursday, Grant, Pook & I went to Typhoon Lagoon. I didn't take my camera so I don't have any pictures, but it was a lot of fun!
Friday, we hit Hollywood Studios. I think it's one of my favorite places, but Grant had a really tough time that day. We were all totally stressed by the end of it & I really was not in the mood for pictures of him. However, this little duck came up to us while we were waiting for our shuttle & he wasn't camera shy at all!
We ate Mexican that evening & our little booger was tired! He fell asleep waiting for our food!
After that, we played mini golf. I posted a couple of pics of that night on a previous post. My 2 cheeseballs!
All in all, it was a good trip! Both kids did better than I did on the flights, which was a huge relief! It was a very tiring week, and I would've loved to have had a few more days there so that we could've rested a day in between each park. Hopefully, we'll get to go back again in a few years and won't have a scaredy cat then!